On November 1, 2023, "Mononoke Village" opened.
Enjoyable? What's there? It's crowded, isn't it? I think there are various concerns. I am sharing a report that I actually visited on the 5th day after opening. Tickets are only sold as a set with Ghibli's warehouse, so I enjoyed Mononoke Village around 12:00 before the Ghibli's warehouse reservation at 14:00.
If you enjoy all of Ghibli Park's "Mononoke Village", it will take about 2 hours.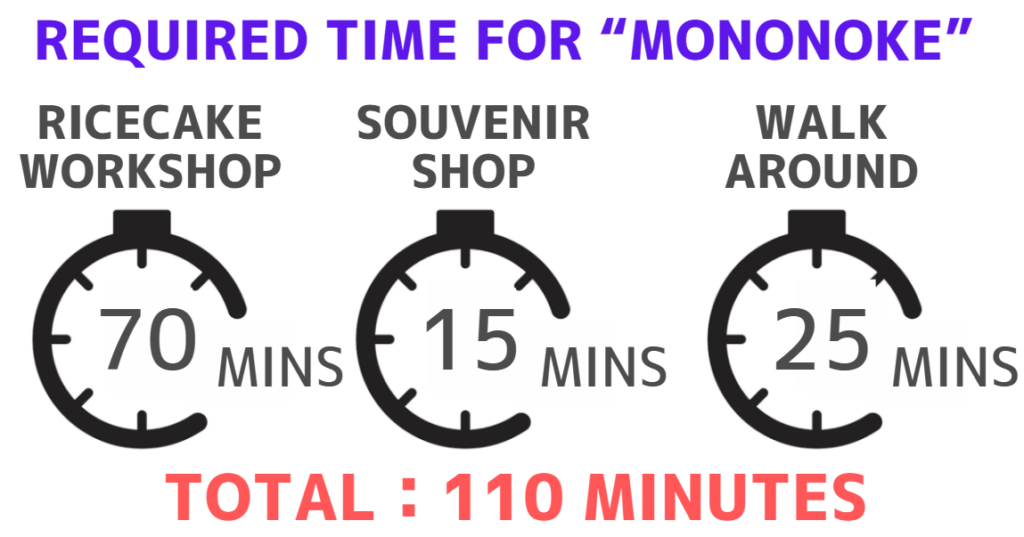 The village of Mononoke is not very large. There are about three highlights: the Maiden Lord, the object of the god Tatari, the Gohei mochi baking experience, and the shop.
This report, I enjoyed Mononoke Village from around 11:30 to 13:30.
t was lunchtime, so the Gohei mochi experience may have been crowded. If you want to take a closer look at the details, you should set aside another 30 minutes or so.
How long did it take to enjoy Mononoke Village?
I will share the details of each of the things that I enjoyed in Mononoke Village.
Working time from the parking lot to the Clock Tower.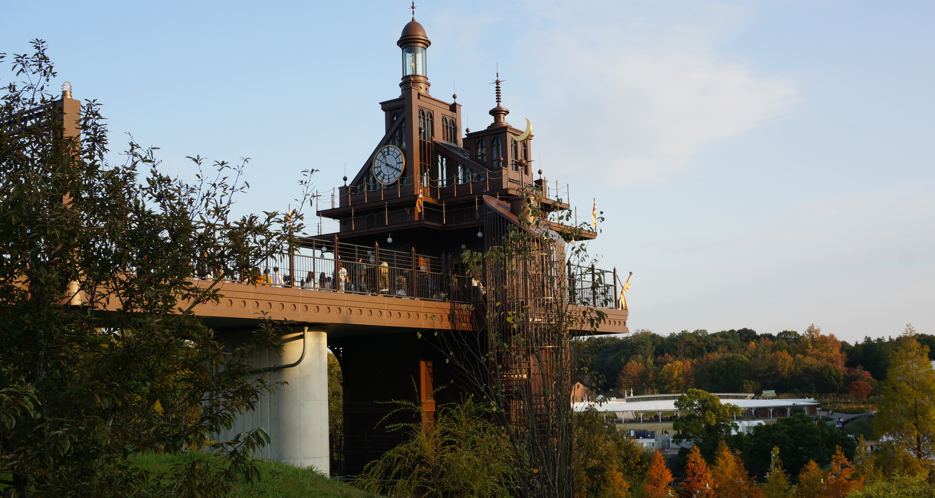 I visited on Sunday, but the main "north parking lot" was full. I parked my car in the "North 2nd Parking Lot" on the north side across the main street called Green Road. Compared to the north parking lot, the walking time is about 5 minutes longer.
It takes about 10 minutes from the north car park to the clock tower.
If you stop at a convenience store or shop on the way, the time will pass quickly, so be careful.
The way from the Tower of the Clock to Mononoke Village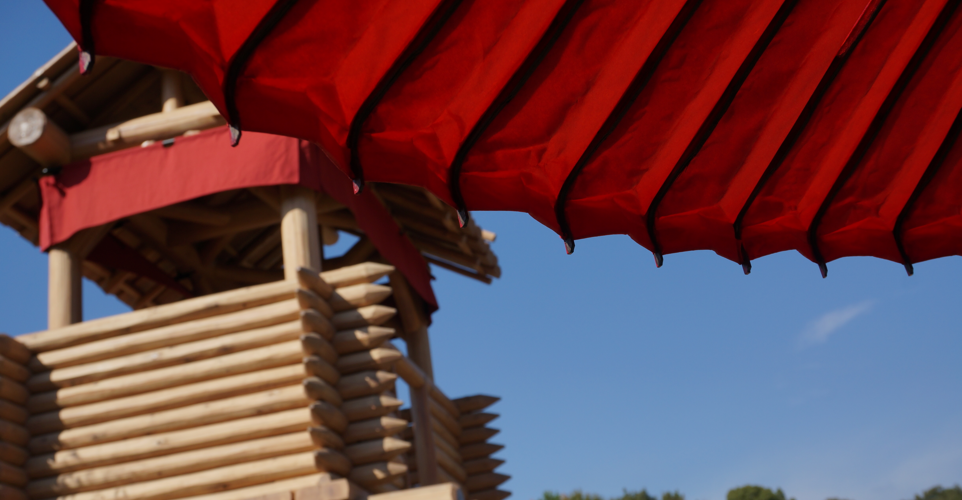 From the Clock Tower to Mononoke Village, just walk east on a wide road. As you descend the gentle slope, you will see the cat's castle in front of you. The village of Mononoke is located in the back of this.
Even on a child's feet, 10 minutes is enough.
Tataraba's Gohei Mochi(Rice cake) Baking Experience
The main event of Mononoke Village? You can't miss the Gohei mochi baking experience. We started lining up around 11:30. The exit was at the end of the line, and it took about 35 minutes to get inside.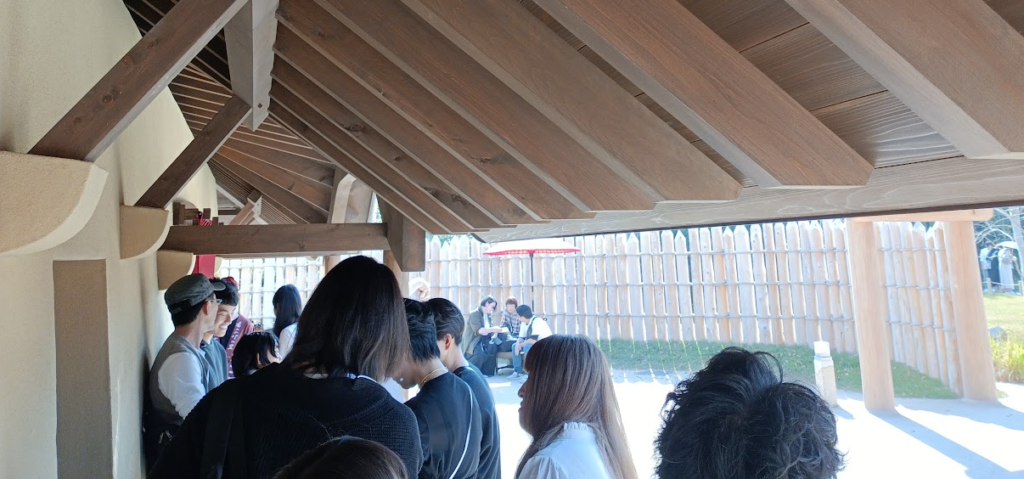 Let's take a look at all the travel times you may be interested in. The total waiting and experience time is about 60 minutes. If you include the time to eat, it takes about 70 minutes. Make sure you have plenty of time.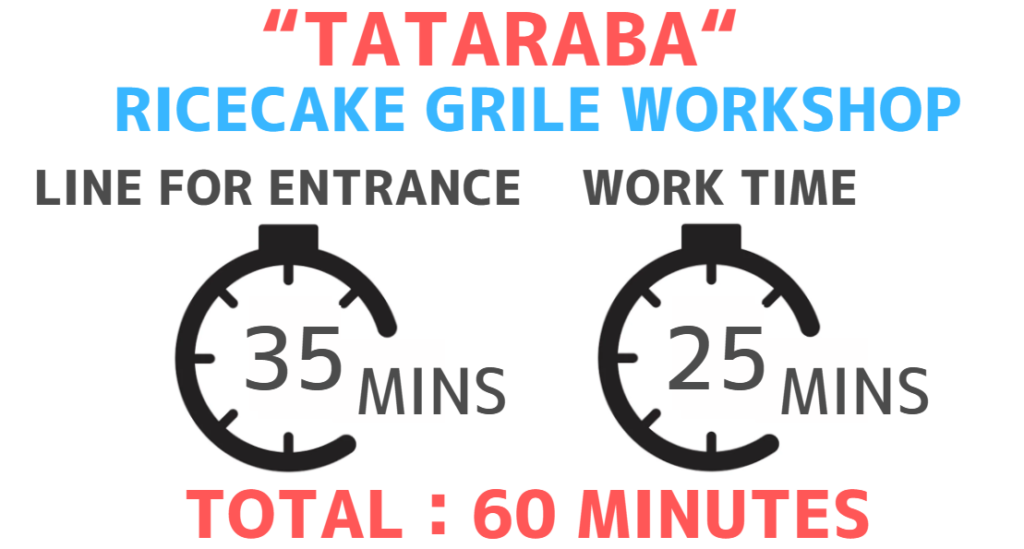 Pricing for the workshop experience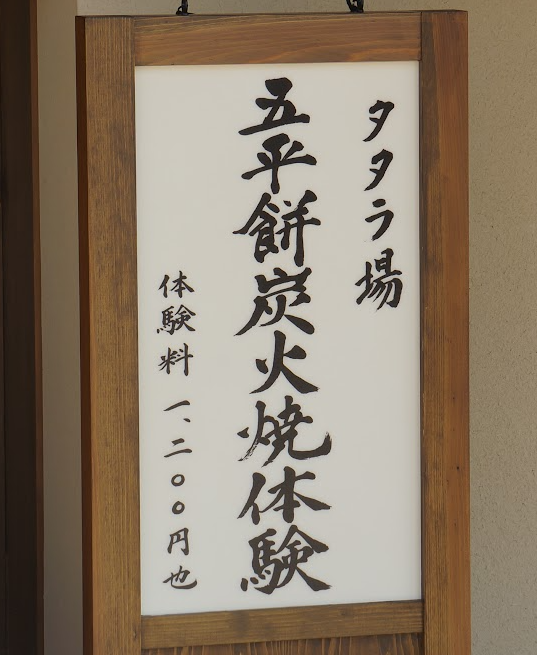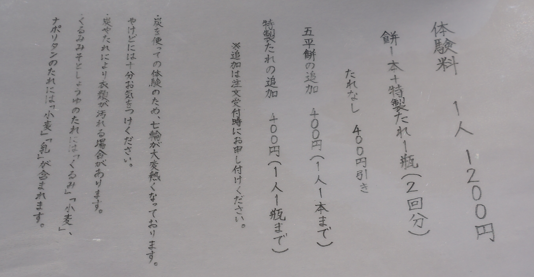 The fee is 1200 yen / person. This price includes a sauce for rice cake.
The amount of sauce is firm, and you can bake it with a margin of 2 sticks. If you use the same sauce for two bottles, you can experience it at a 400 yen discount.
Types of sauces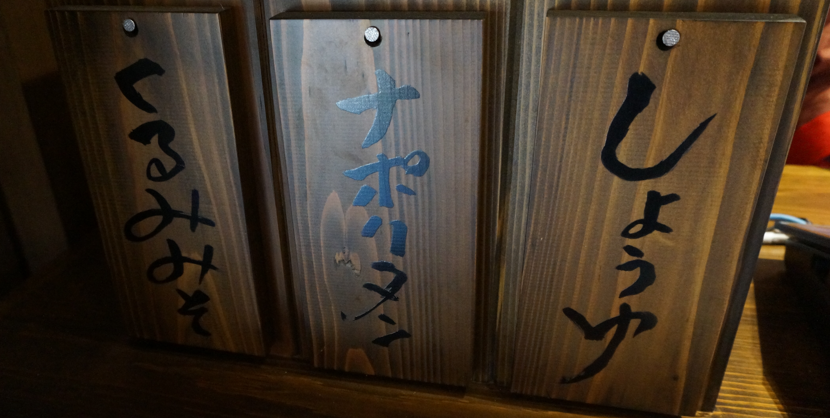 There are three types of sauces.
The most recommended sauce is that classic "walnut miso" of the Mikawa region. And "soy sauce" that is popular with everyone. The last is a different kind of "Neapolitan" based on Neapolitan spaghetti that originated in Nagoya. It's a ketchup-based sauce.
This time, I chose "Neapolitan", which I saw for the first time(even for Japanese). It was delicious when it was sprinkled with cheese and melted a little. All of them are recommended, but I would like you to try "Neapolitan".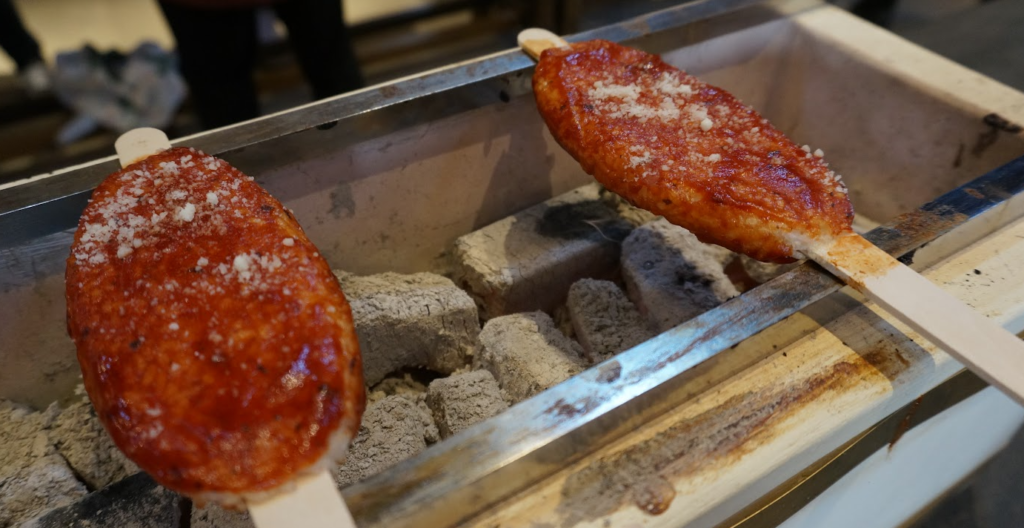 Souvenir shop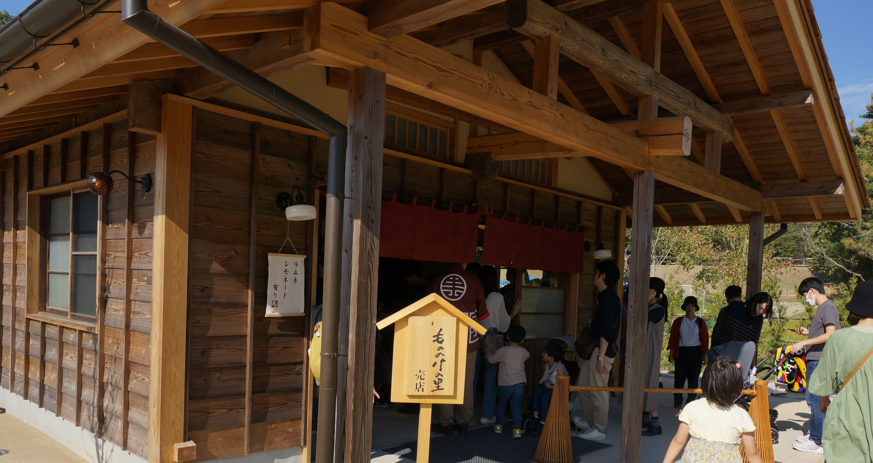 It is a shop that sells "Mononoke goods" that can only be bought here. The rotation was fast, so we had to wait about 10 minutes and we were able to get inside.
I bought ramune lemonade, a "Kodama" badge, and "Sun's Dried Meat (Beef Jerky)". The family was ♪ delighted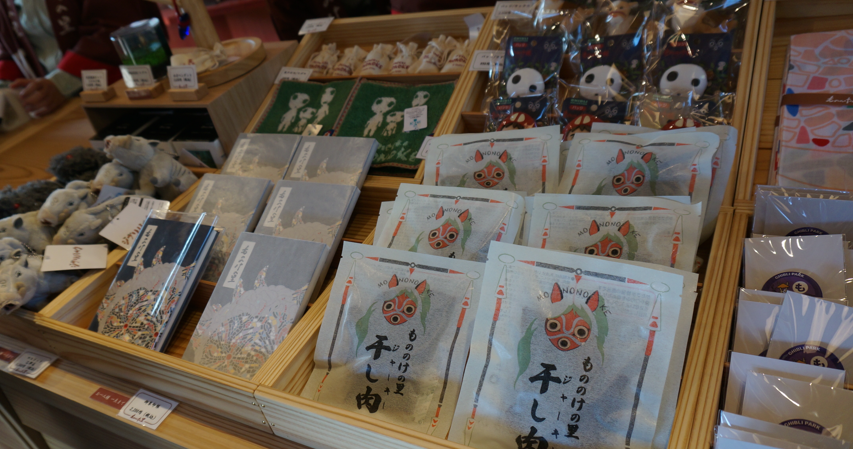 Slide of "Okotonushi" = God of the wild boar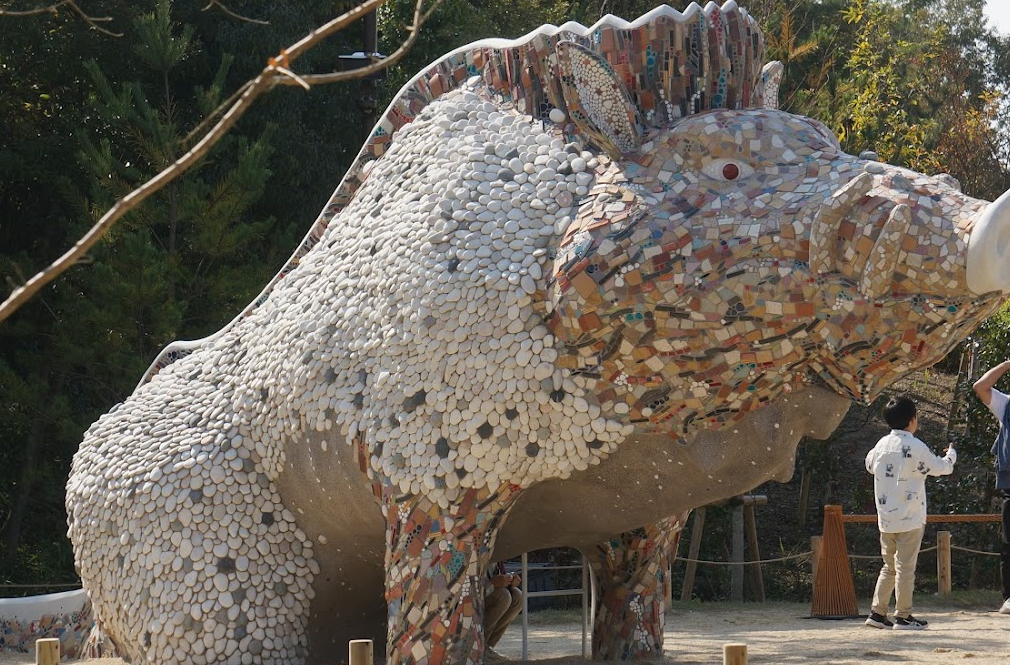 It is a maiden slide that can be used by children under the age of 12. It is a playground equipment that enters from under the stomach and slides down the back. If you wait as long as 5 minutes, you can use it.
Don't worry, there is no "knocking" even if you touch it!
"Ghibli's Warehouse" set with Mononoke Village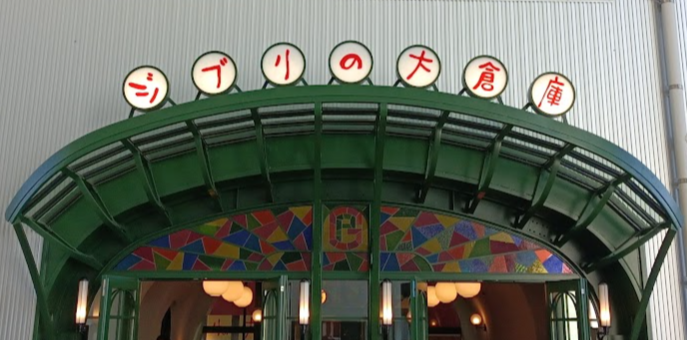 Since I had a ticket for 14:00 admission, I visited Mononoke Village at 11:30, two and a half hours earlier. Two hours later, at 13:30, we left Mononoke Village and walked to Ghibli's large warehouse.
If you walk west for about 10 minutes, you will arrive at Ghibli's large warehouse. There is also a lawn plaza and a kitchen car, so you can move around while having fun.
Special Exhibitions in the warehouse
Currently, there is an exhibition related to the food of Ghibli films. If you can remember that scene in the movie and go around slowly, it will take about an hour, but you can watch it for about 20 minutes.
Commemorative photo with the giant god soldier in Raputa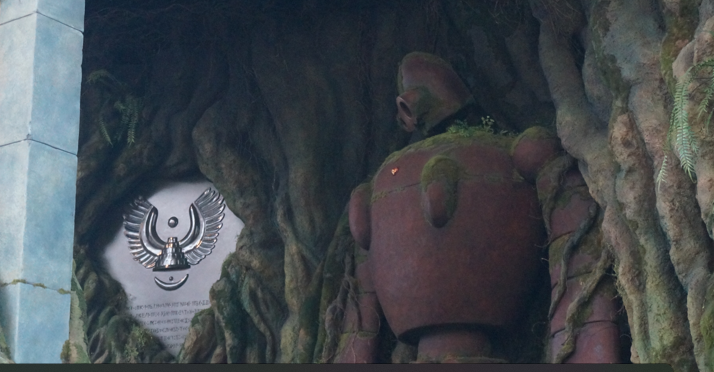 Depending on the number of people waiting to be photographed, you can take a commemorative photo in about 10 minutes.
Mini movies at Cinema Orion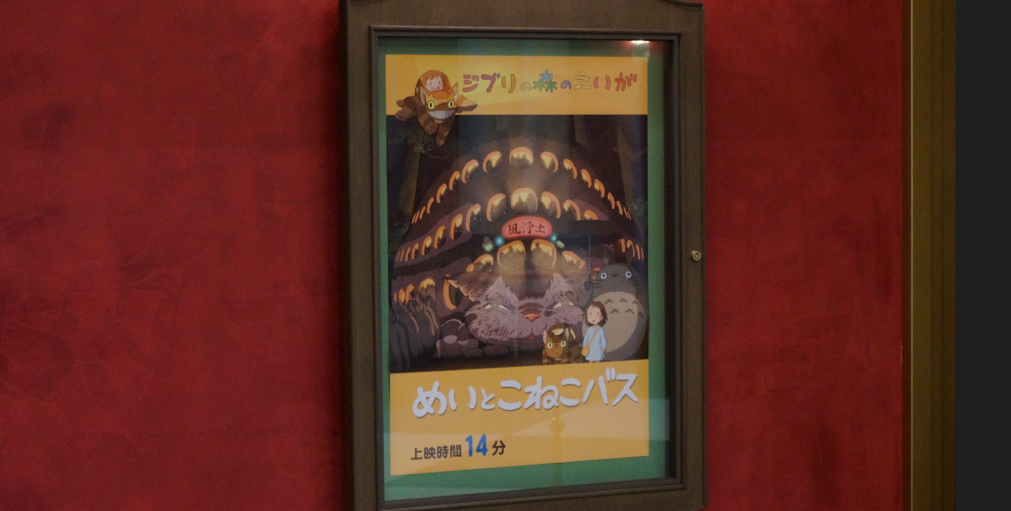 The film is shown once every 20 minutes. Up to 10 minutes of waiting, plus 15 minutes of movie watching time. You only need to set aside a total of 30 minutes. A short-movie called "May and the Kitten Bus" was being shown.
Movie is changing periodical timing.
Souvenir shop
There are so many items that Ghibli fans will be excited. If you set aside 15~30 minutes, you will be able to choose souvenirs with satisfied.
Time required to get to Mononoke Village by bus service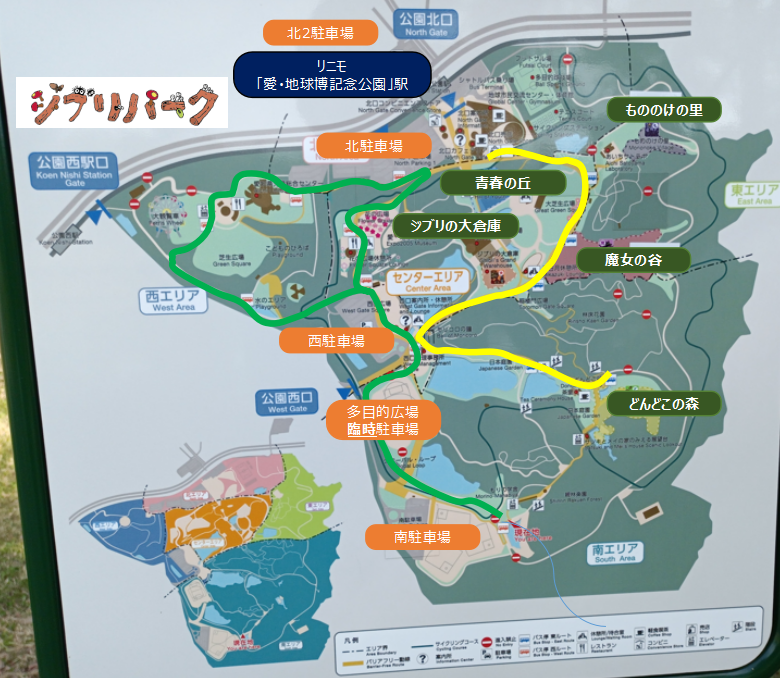 A bus service in the park is operated as Morikoro Park. About 5 minutes from the Linimo station, there is a bus stop called the Center for Global Citizenship. From there, you can take a bus to near Mononoke Village in 2 minutes. However, there is about one train every 30 minutes, so it's faster to walk than to wait.
You can also use the bus from Mononoke Village to Ghibli's large warehouse or Dondoko Forest~.
園内バスルート・時刻表 – おでかけナビ・名古屋と愛知の公園であそぼう!おでかけナビ・名古屋と愛知の公園であそぼう! (aichi-koen.com)
Sorry! No English page is available.
How to get Ghibli Park tickets

If you're visiting Ghibli Park from afar, you'd want to visit all three if you could, right?
It's not impossible to get it if you do your best on your own, but the package is recommended.
Take a JTB tour with a hotel
JTB also offers package tours with hotel accommodation. It can also be used in conjunction with sightseeing in Nagoya. You can definitely get a ticket.
JTB Ghibli Park Special Feature
Sorry! No English page available
Let's prepare understanding Ghibli's movies
If you watch a movie and prepare before visiting, the fun will be tripled. In fact, I rented a DVD at a rental shop and prepared for it before visiting.
I didn't know there were no subscriptions…
[Fun MAX! ] Ghibli Park opens! Top 5 Ghibli movies to watch while staying in the car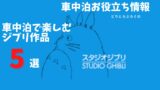 Thank you for reading to the end. I hope it will be of some help to you.
Summary of time required at Ghibli Park "Mononoke no Sato"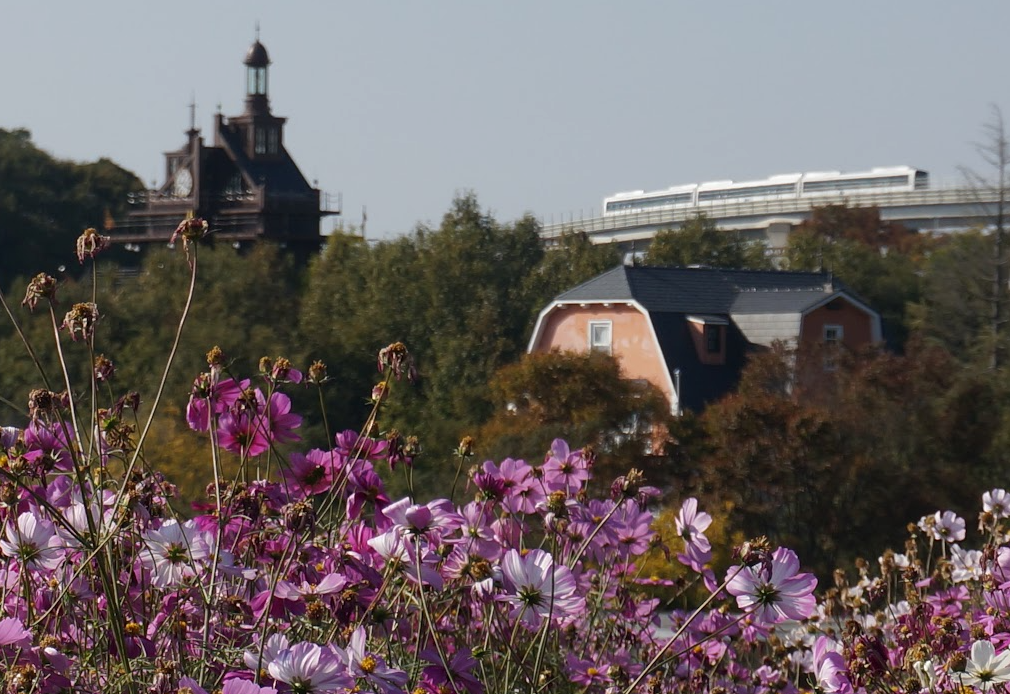 We experienced "Mononoke Village" on the 5th day of opening and shared how long it would take. Jib movies are really deep and fun!
I was also able to experience Neapolitan Gohei mochi, and it was a very satisfying day!
Ghibli Park makes families smile! And now!